OBITUARY
Elaine Gorman Stott
April 11, 1935

–

January 16, 2023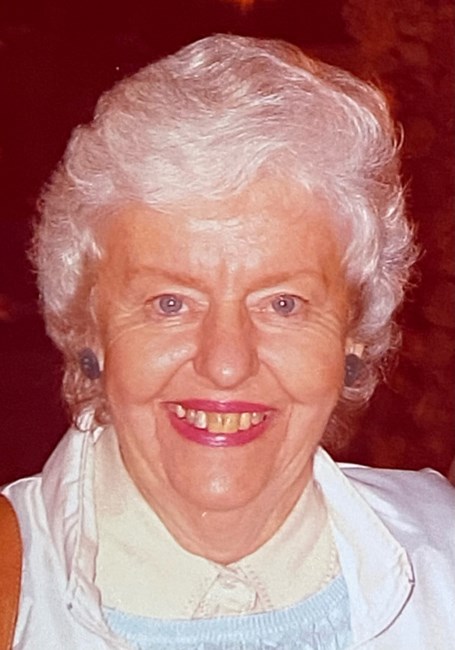 Elaine Gorman Stott, age 87, of The Villages Florida, died on January 16, 2023 after a series of unexpected complications from a hip replacement in early December. Elaine had a generous spirit, a huge smile, an easy laugh, a deep devotion to animals, and a knack for golf and other games with her many dear friends. She was enormously proud of her beloved daughter Sandi, and she adored Sandi's husband Lev so much that she didn't even brag about it when she beat him at golf at the age of 80. Elaine was born in Lewiston, Maine, an only child to Richard B. Gorman, president of Berry Paper Company and Doris C. Gorman, a homemaker. Elaine graduated from Edward Little High School in Auburn, Maine, where she was a majorette and enjoyed golf, ice skating, skiing, bowling, canasta, listening to the radio, and school dances. She graduated from Colby College in Waterville, Maine with a B.A. in Business Administration and worked after graduation in Administration at Bates College in Lewiston, Maine. But not for long. Seeking warm weather and a new adventure, Elaine headed south and moved to South Palm Beach, Florida with her childhood, lifelong friend, Elaine McCarty. She became secretary to the president of the Lake Worth Federal Savings and Loan Association and the two Elaines enjoyed the beach and golf in their spare time. It was here that she met her future husband, William W. Stott, who lived in the same beachfront apartment building while on a temporary work assignment. Elaine married Bill in Maine during a blizzard in January, and they moved to South Windsor, Connecticut for Bill's job. She became a homemaker, and two years later, a mother to Sandra. She adopted an energetic English Sheepdog mix from the Humane Society. During her time in South Windsor, Elaine's hobbies included arts and crafts, drawing, entertaining friends, and collecting modern house design and decorating ideas for her future dream home. She was also involved in her community as an elementary school "room mother" for several years, bringing fun, creative food, and crafts to the classroom. She was active in the parent-teacher association and was the principal of the St. Francis of Assisi CCD (Catholic education program for children). She also raised money for the American Heart Association for many years. Elaine was finally able to turn her many years of collecting design ideas into reality when she worked with an architect to design and decorate a new home in Higganum, Connecticut. She loved entertaining friends and family there, but when Bill's job was relocated to Florida, Elaine left her dream house to begin again in North Palm Beach. For the next 10 years, she worked as an office manager for Square D company, an electrical equipment supplier, to help pay for Sandi's college education. After Elaine retired, she moved to Palm Beach Gardens, Florida where she and Bill eventually divorced. She attended St. Ignatius Loyola Catholic Church and was an active member of the St. Paul of the Cross Divorced and Separated group where she made many friends. Elaine was also a longtime volunteer at Good Samaritan Hospital in West Palm Beach, where she was recognized for over 2000 hours of service. Elaine cared for her mother and her mother's dog in her home during her mother's final years. Elaine later adopted a stray cat she named "Kitty," who provided her with many years of joy and companionship. After Elaine's mother died, Elaine and Kitty moved to The Villages, Florida to start a new and very happy chapter in her life. She made friends quickly and was involved in many activities including golf, chair yoga, cards and other games, various crafts, and volunteer work. She was an active member of the "On the Go Girls Group," which she affectionately referred to as "Girls on the Go" and attended many outings and events with the group before the pandemic. During the pandemic, a small group of Elaine's friends became known for "driveway birthday parties," where they could still see each other in person at a safe distance and maintain connection. During this time, she also found enjoyment in reading, playing games on her iPad (especially Wordle), emailing, texting, talking with friends and family, overtipping delivery drivers, and feeding the birds, squirrels, rabbits and lizards in her yard. She was very proud that she was able to handle the isolation well. Among the most memorable times in Elaine's early life were getting a hole-in-one and "beating the boys" at golf. In her later years, she enjoyed telling friends about her bravery riding a chairlift to Sandi and Lev's wedding on top of a ski mountain. Elaine was known for her beautiful blue eyes, bright pink lipstick, huge smile, perfectly ironed and coordinated outfits, often wearing a scarf as a belt and having button earrings in every color. She was also known for her generosity, kindness, thoughtfulness, for cherishing her friends and being a great neighbor. She never missed a birthday, always sent the perfect cards, gave the best gifts, cared for neighbors' animals, provided a listening ear in hard times, and had a great sense of humor. Elaine was also very sentimental. She kept many sweet notes and mementos given to her over her lifetime, and she loved decorating for Christmas because every decoration triggered a fond memory. Elaine LOVED animals – any kind of animal – and always found a way to see each one as "cute" or "cunnin." She volunteered her time and supported many organizations she cared about throughout her life, especially those that promoted health, education, and clothing for the needy – and always those that focused on the care of animals. Elaine leaves behind friends and family from every part of her long life, including the many who reached out, visited, and cared for her in her final weeks: Sandi & Lev, McCart, Ginny & John, Greg & Sharon, Jon & Patty, Freling & Linda, Freling & Susan, Whitney & Joanna, Jed, Barb, Audrey, Charlotte, Liz, Carol, Karen, Kathy, Louise, Nini & Ed, Henry & Rachel, Will & Ashley, Debi & Dennis, Donna & Chuck, the On the Go Girls Group, her kind neighbors, many of Sandi & Lev's friends, and her angel caregiver Jenn. Elaine was pre-deceased by a number of dear friends and family, including Pearl, a Connecticut friend since the 1970s who died in November 2022, and her sister-in-law Peggy who inspired her to move to The Villages and died shortly thereafter. A funeral mass will be held at 11:00 a.m. on Saturday, February 11, 2023 at St. Vincent de Paul Catholic Church in Wildwood, Florida followed by a Celebration of Life reception/lunch from 1:00 p.m. – 3:00 p.m. at the SeaBreeze Recreation Center, 2384 Buena Vista Blvd. in The Villages, Florida. Memorial contributions may be made in Elaine's memory to an organization that she supported during her time in The Villages: Your Humane Society SPCA, P.O. Box 67, Lake Panasoffkee, Florida 33538.
See more
See Less
Services
Saturday,
February 11, 2023
Funeral Mass
11:00 am
St. Vincent de Paul Catholic Church
Saturday,
February 11, 2023
Celebration of Life
1:00 pm - 3:00 pm
Seabreeze Recreation Center
In Memory Of
Elaine Gorman Stott
Help tell the story of your loved one's unique life. Leave a memory or share a photo below to show your support.